Why This Is The BEST Non Alcoholic Martini Mocktail
IT'S DIRTY! All this means is that it has olive brine in it for an addicting salty note. You can easily make this without the olive though.
CLASSIC MARTINI FLAVOR without the alcohol. I guarantee you won't even miss the alcohol because we use authentic tasting non alcoholic spirits.
ONLY 3 INGREDIENTS, 4 if you include the olive garnish.
GREAT ALCOHOL FREE DRINK for pregnancy, sober curious, or those who cannot or should not consume alcohol for whatever reason.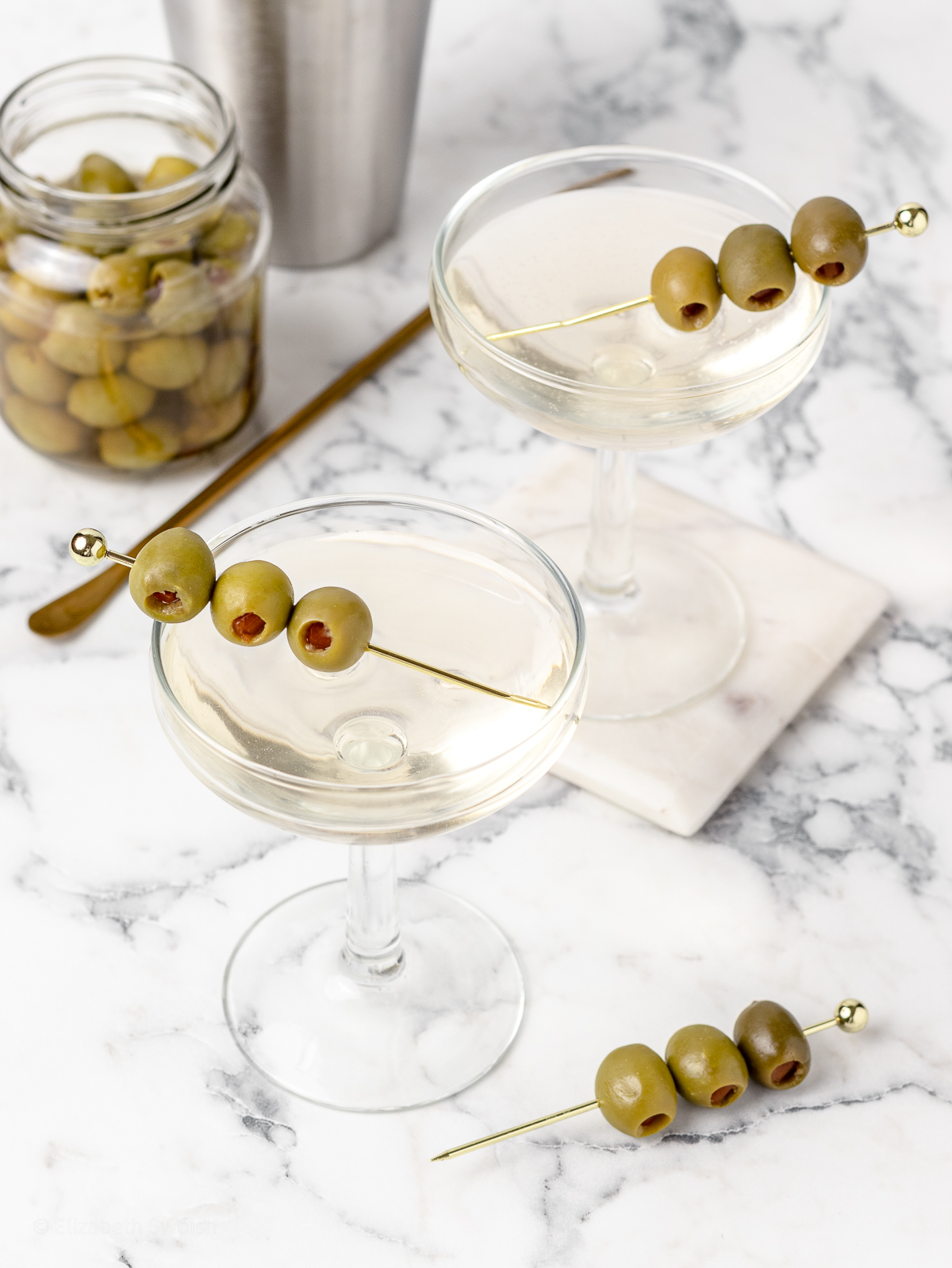 What Is A Dirty Martini Mocktail?
A Dirty Martini Mocktail is the non alcoholic version of a Dirty Martini, of course! The Dirty Martini is a classic cocktail which was believed to be originated in New York in the early 1900's.
Typically a Dirty Martini contains vodka (or gin), dry vermouth, olive brine, and an olive garnish. This mocktail contains all those things, except the alcohol removed vodka and dry vermouth spirits. It still has the same classic flavor profile, don't worry!
Let's Make It Together In Under 30 Seconds
Dirty Martini Mocktail Ingredients
Non Alcoholic Dry Vermouth: I used Seedlip Spice 94 and even though it isn't labeled as vermouth it does a great job mimicking the flavor notes. You could also use this NA Vermouth from Lyres.
Green Olive Brine: This is what makes a martini "dirty" and it is just the liquid from the olive jar.
Green Olives: Use your favorite brand and variety. This recipe uses plain pitted olives, but you could use bleu cheese stuffed olives, spicy, or even marinated olives.
NOTE: Non alcoholic spirits are just like alcoholic spirits, some taste better than others. We all have different flavor preferences which is why I like to give multiple options. I give my recommendations, BUT at the end of the day I want to help you find which non alcoholic spirits you prefer.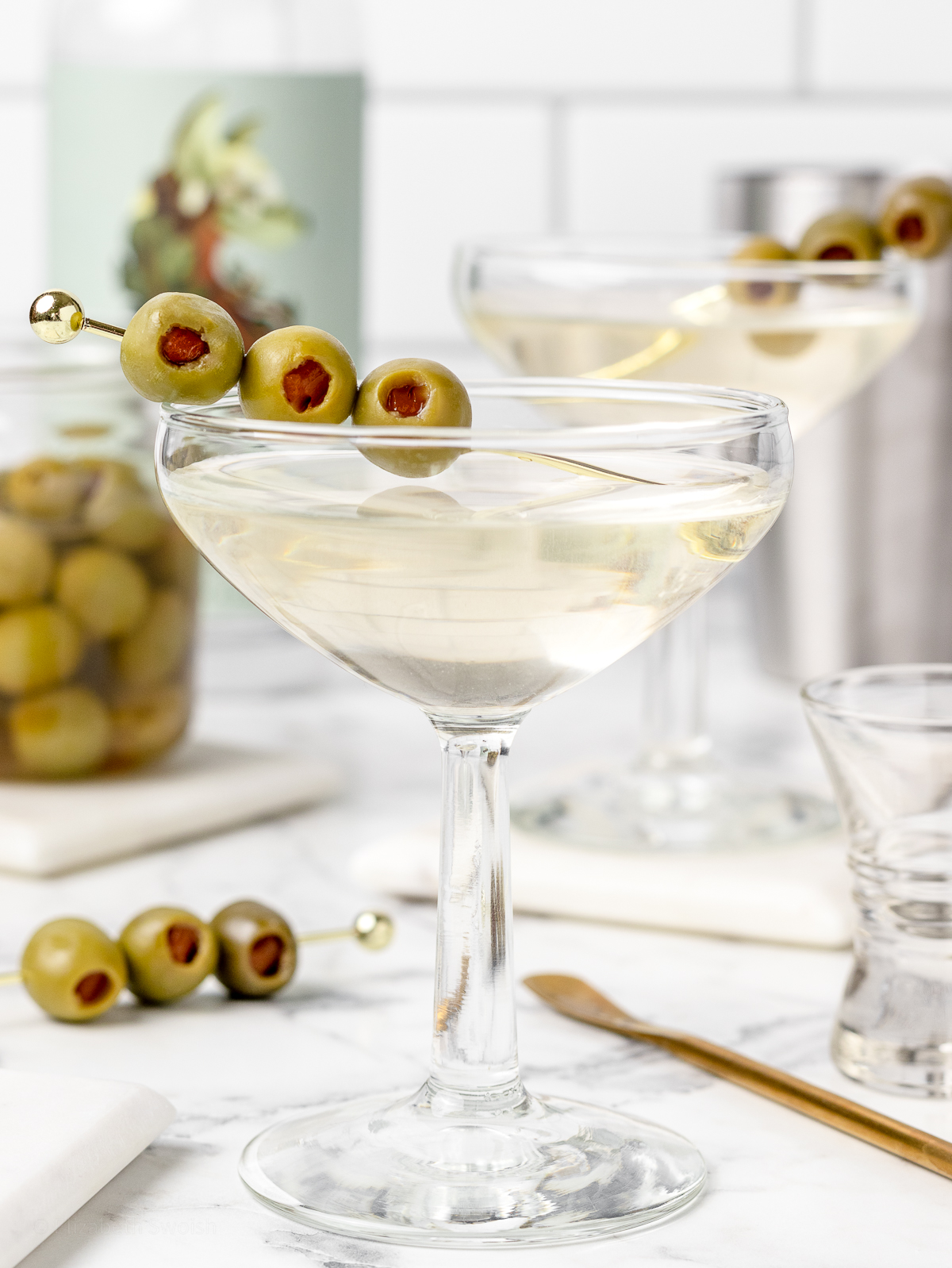 Equipment Needed
Martini Glasses or any type of small glassware.
Cocktail Shaker or large glass.
Stirrer or long spoon.
Cocktail Pins for holding olive garnish in place.
How to Make A Dirty Martini Mocktail
STIR together non alcoholic vodka, non alcoholic vermouth, and green olive brine with ice.
STRAIN dirty martini from the ice into a martini glass.
GARNISH with green olives.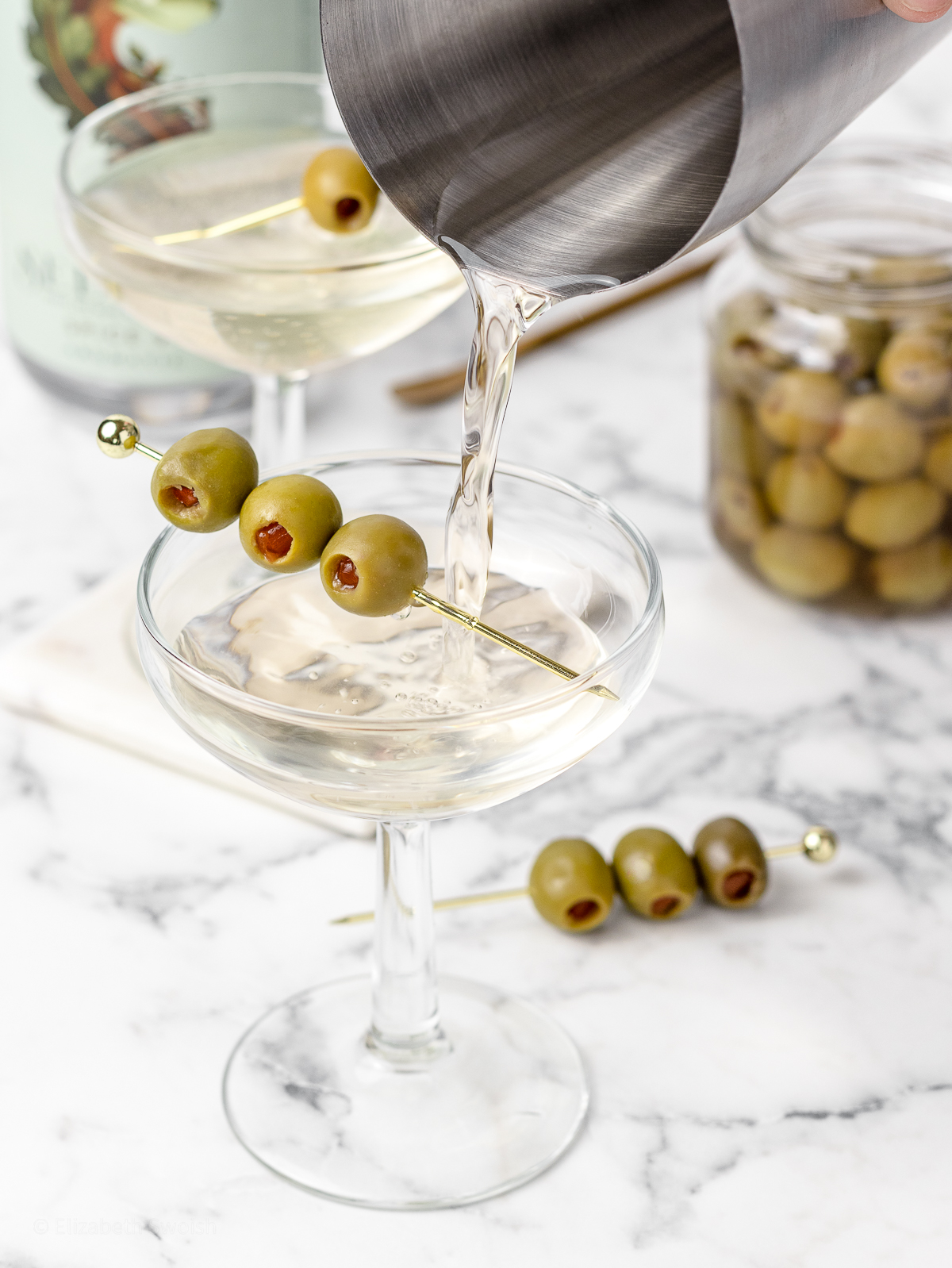 Non Alcoholic Martini Variations
The Dirty Martini is my absolute favorite because I love olives. BUT if you are looking for some variation to spice up your martini mocktail game, I have a few suggestions:
Classic Martini Mocktail: omit the olive brine and olive garnish.
Make it with non alcoholic Gin instead of Vodka. My favorite is Monday Gin but other options include Ritual, Free Spirits, or Lyre's.
Lemon Drop Martini: add 1/2 ounce of lemon juice and a lemon twist garnish, omit the olive brine.
Appletini: add 1 ounces of apple juice, omit the olive brine.
Pornstar Martini: add 1 ounce of passion fruit juice or puree, omit the olive brine.
Flavor your martini mocktail with simple syrup instead of olive brine.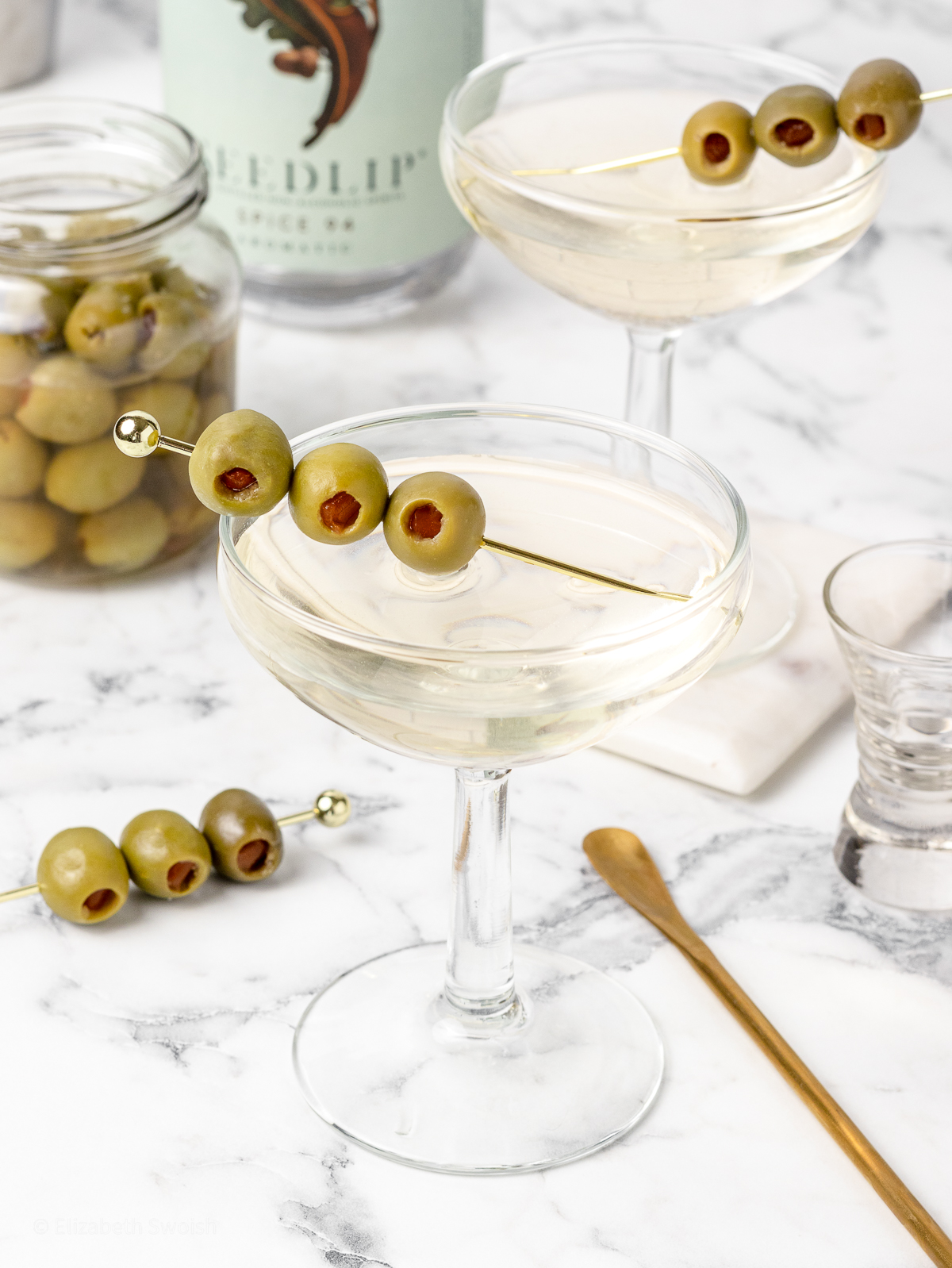 Frequently Asked Questions About Non Alcoholic Martinis
More Classic Non Alcoholic Mocktails You Might Like:
---
Dirty Martini Mocktail
The easiest, most perfect, non alcoholic Dirty Martini Mocktail. It is a great option for pregnancy, sober curious, or anyone not wanting to drink alcohol.
Equipment
Cocktail Shaker -

or large glass with strainer

spoon or stirrer

Cocktail Pins

Martini Glass
Ingredients
2 ½

ounce

non alcoholic vodka

- or gin (I used Arkay)*

½

ounce

non alcoholic dry vermouth

- (I used Seedlip Spice 94)*

½

ounce

green olive brine

3

green olives
Instructions
To a cocktail shaker add ice, non alcoholic vodka, non alcoholic dry vermouth, and green olive brine.

Stir together until well combined.

Strain away ice and pour into a martini glass.

Garnish with 3 olives on a cocktail pin. Sip!
Notes
Your Options for Non Alcoholic Spirits:
Metric conversions are calculated automatically. I cannot guarantee the accuracy of this information.
Tried this recipe?
Feel free to share a rating and comment below. Don't forget to tag me on social media, or use the hashtag #EntirelyElizabeth – I would love to see what you've made!
If you make my Dirty Martini Mocktail, don't forget to leave this recipe a rating, comment, or like. Tag me on social media using the hashtag #EntirelyElizabeth when sharing your own personal photos making this recipe. I would love to see your version and know your thoughts!

By