A delicious and fresh side dish for Easter dinner, baby showers, barbeques, church picnics, and even meal prepping.
Why You Will LOVE This English Pea Salad Recipe:
A ONE BOWL, EASY CLEAN UP RECIPE
10 SIMPLE INGREDIENTS AND ONLY 10 MINUTES TO MAKE
NO HARD BOILED EGGS OR BACON: I like to keep my pea salad light, bright, and fresh. I also think adding the bacon and hard boiled eggs is such a pain in the butt, this is why my English Pea Salad does not have them. I did add some Dijon mustard and a little more mayonnaise to make up for the missing creamy element, and celery for the missing crunch.
What Is An English Pea?
English Peas are the same thing as garden peas you find canned or frozen at the grocery store. The peas are harvested once they become plump enough to bust open their pods. Their pods are not edible like sugar snap peas or snow peas either.
For this recipe you can use fresh peas from the garden that need to be shelled, frozen peas, or canned peas. The peas from the garden obviously taste the best but frozen peas are the next best option. Canned peas work as well but they tend to mush up and break down easier than the other options.
Let's Make It Together! Watch My Video Tutorial:
English Pea Salad Ingredients
ENGLISH PEAS (GARDEN PEAS): Feel free to use fresh, frozen, or canned. I used frozen peas because there is no cooking or blanching required.
RED ONION: Dice it in very fine pieces so it does not overwhelm the other ingredients.
CELERY: This is to add extra crunch to your salad.
CHEDDAR CHEESE: Use either pre-cubed cheese or buy a large block and cube it up yourself.
MAYONNAISE: This is the base of our dressing so make sure you are using a high quality mayo. I like to use Duke's.
LEMON JUICE: Freshly squeezed is the best but you can also use apple cider vinegar. Don't leave this out, the acid element helps cut through the richness and adds freshness to the salad.
DIJON MUSTARD: Adds creaminess and bold flavor. Brown mustard is another great option if you do not have Dijon.
GRANULATED SUGAR: A little sugar to cut through the acid, and don't worry your salad won't taste sweet.
SALT AND PEPPER: Essential in any recipe.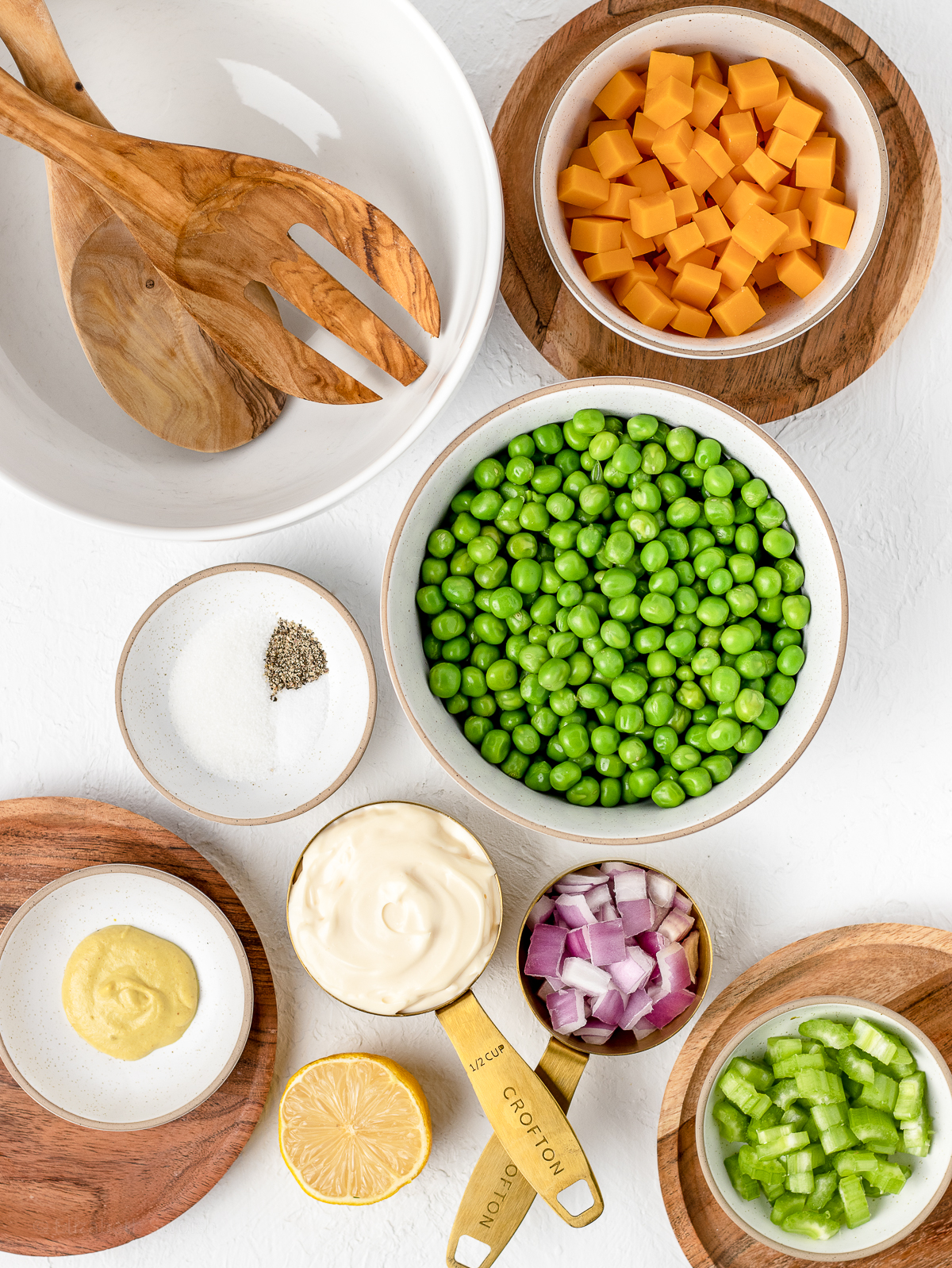 How to Make English Pea Salad
THAW THE FROZEN PEAS: Place the peas in a large colander and run them under very cold water until thawed but firm. Set aside and let the water drain from the peas.
PREPARE MIX INS: Finely dice the red onion and celery (so they are the same size as the peas), cube the cheddar cheese, fry up and crumble the bacon.
MIX DRESSING: In a large salad bowl whisk together mayonnaise, lemon juice, dijon mustard, granulated sugar, salt, and pepper.
COMBINE SALAD: Add the mix ins to the dressing and toss gently until well coated and combined.
CHILL: This time allows the salad to meld together and build in flavor. It should be chilled for at least 4 hours or overnight if possible.
SERVE
PRO TIP: Double or triple this recipe. I guarantee you will be wishing you did. In the recipe card toggle the option to 2X or 3X to scale the recipe up.
Storing Information
Any leftover English Pea Salad you have should be stored in an airtight container and in the refrigerator. It is best eaten within 3 to 4 days. I do not recommend freezing this recipe, once thawed it will be a runny and mushy mess. To liven up your leftovers, drain off any excess liquid and then add a small amount of dressing or mayonnaise back into the salad.
Variations
Here are a few fun ways to spice up your English Pasta Salad even more:
MAKE IT SOUTHERN: Add 4 slices of crumbled bacon and 4 hard boiled eggs to make this a Southern Pea Salad. I like to keep it light, bright, and fresh.
TOSS IN OTHER VEGETABLES: bell peppers, scallions or green onions, radishes, carrots, cucumbers, etc.
ADD PASTA: Make this an English Pea Pasta Salad! Use small shapes like elbow macaroni, bow tie, orzo, or ditalini.
LOOKING FOR A THINNER DRESSING? Add more lemon juice or a splash of buttermilk to thin it out.
Frequently Asked Questions (FAQ's)
More Fresh Recipes You Might Enjoy:
---
English Pea Salad
Looking for a delicious and easy side dish? You will love this creamy, old fashioned, fresh English Pea Salad recipe with celery, red onion, and cheese.
Ingredients
24

ounces

peas;

frozen (you can use can/ drained or fresh/ blanched peas)

1

cup

cheddar cheese;

in small 1/4" cubes

½

cup

celery;

chopped into pea sized bites

½

cup

red onion;

chopped into pea sized bites

1

cup

mayonnaise

2

tablespoons

lemon juice;

fresh (about 1 lemon)

1

tablespoon

dijon mustard

2

teaspoons

granulated sugar

½

teaspoon

salt

1

teaspoon

black pepper
Instructions
Place frozen peas in a large colander. Run them over cool water for a few minutes or until thawed (yet firm). Set aside and allow the excess water to run off the peas.

In a large bowl, whisk together the mayonnaise, lemon juice, dijon mustard, granulated sugar, salt, and black pepper.

Add the peas, cubed cheddar cheese, chopped celery and red onion.

Toss the salad until everything is well coated and combined.

Cover and refrigerate for at least 4 hours and up to 12 hours.

Remove from the refrigerator and lightly toss prior to serving.
Notes
Storing Information:
Refrigerated, in an airtight container, for up to 4 days.
Freezing this salad is not recommended.
LOOKING FOR A THINNER DRESSING? Add more lemon juice or a splash of buttermilk to thin it out.

USING FRESH PEAS? Boil them for 3 to 5 minutes and immediately submerge the peas in cold water. They tend to be tough and need a little bit of cooking to help soften them.

Metric conversions are calculated automatically. I cannot guarantee the accuracy of this information.

Tried this recipe?

Feel free to share a rating and comment below. Don't forget to tag me on social media, or use the hashtag #EntirelyElizabeth – I would love to see what you've made!

By