This hand shaken State Fair Lemonade is a festival classic made in the comfort of your own home. Using simple ingredients: lemons, sugar, ice, and water, you will have an authentic, sweet and sour lemonade.
Not to mention, it takes 5 minutes to make and is easier than most recipes out there!
It is state fair season here in Michigan, YAY! And when I tell you I run to the lemonade concession stand every year at our county fair, I mean it. There is something so nostalgic about the whole experience: adrenaline rushing rides, elephants ears, exotic animals. Unfortunately they only come around once a year (which makes them special), but now you do not have to wait all year to enjoy State Fair Lemonade!
Why You'll LOVE this Authentic State Fair Lemonade Recipe
We use the entire lemon, not just the juice. Oils in the lemon peel contain more lemon flavor than juice alone. By using the whole lemon we capture even more lemon essence.
There is no tedious peeling of the lemons. We let the muddler do all the work of breaking down our lemons and releasing the juice and oils.
It is done in 10 minutes with no complicated steps: cut your lemons, add sugar, muddle together, add ice, add water, shake, and sip!
If you love lemon as much as I do, try my Lemon Curd Cake, Mini Lemon Meringue Pies, or these Soft Lemon Cookies and Small Batch Lemon Bars.
VIDEO TUTORIAL: Let's Shake Some Lemonade Up Together!
Ingredients for State Fair Lemonade
Lemons: It is all in the lemons! Make sure your lemons are ripe (or it could make your lemonade sour), and thoroughly washed.

Granulated Sugar

: This is what gives our lemonade the sweet it needs. You can use other types of sugar but it will alter the taste of your lemonade.
Ice
Water
You will also need a muddler and two 16 ounce mason jars or other lidded glass container.
How To Make State Fair Lemonade At Home
Roll the lemon on your counter to begin to break them down (use firm pressure when doing this).
Cut your lemons in half and then in fours (you will have 8 pieces of lemon).
Add the lemon pieces and sugar to your jar.
Muddle until the lemons are broken down and the lemon juice is fully released.
Fill your jar with ice and then top with water. Tightly screw the lid on your jars.
Shake until fully incorporated together.
Note: If your lemonade is not sweet enough add more sugar. If it is too sweet, add more water or lemon juice.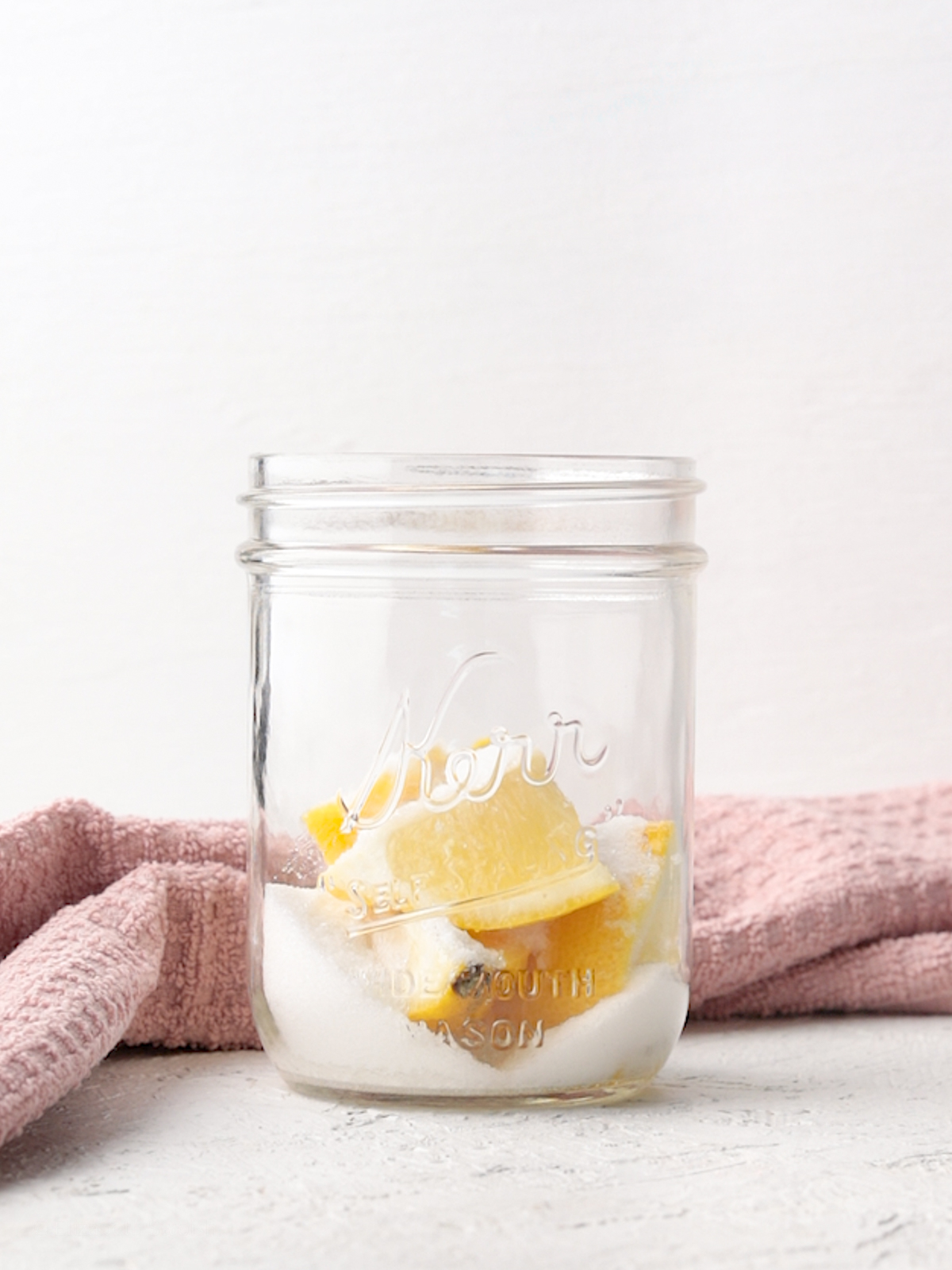 How to Wash Lemons
Since we are using the whole lemon, it is so important we clean our lemons thoroughly to remove wax, pesticides, bacteria, and dirt. We do not want any of those things in our lemonade.
DIRECTIONS: Using cool tap water, run the lemon under the water and rub away any visible dirt. Then brush the entire lemon with a small, stiff bristled brush (I use a toothbrush). Rinse the lemon under water once again and wipe dry with a clean towel. Use the lemons immediately or store in the refrigerator in a gallon bag. If your lemons feel really waxy, you may want to give them a good scrub under luke warm water instead of cool water.
Frequently Asked Questions (FAQ's)
Why was my State Fair Lemonade sour?
It was definitely your lemons! The best way to prevent sour State Fair Lemonade is to use well ripened lemons. To tell if your lemons are ripe they will be a true yellow (not yellowish green or light yellow), and they will be slightly squishy (not firm or easily dented by pressure).
Do I have to keep the lemon peels in my lemonade?
Not at all, you are more than welcome to strain out the lemon peels if you want. Just keep in mind the lemon peel continues to steep and flavor your lemonade over time and taking them out will stop that from happening.
What can I use if I do not have a muddler?
If you do not have a muddler, there's no need to worry. You can easily use the end of a wooden spoon, a pestle, or anything of similar shape.
More Lemon Drink Recipes You Might Enjoy:
---
Thanks for dropping in! Be sure to SUBSCRIBE to my weekly newsletter for fun NEW CONTENT and CONVERSATION delivered to your inbox. If you love this recipe save it now so you can find it later. Thank you for your support!

State Fair Lemonade
This hand shaken State Fair Lemonade is a sweet and sour festival classic made at home. It uses the entire lemon for optimal flavor, there is no peeling required, and it is done in 5 minutes (nothing complicated).
Equipment
muddler

2 16 ounce mason jars
Ingredients
1

lemon

½

cup

granulated sugar

1 ½

cups

ice

1 ½

cups

water

lemon wedges

-

for garnish
Instructions
Wash the lemons: Run the lemon under cool water, rubbing away any visible dirt. Brush with a stiff bristled brush, rinse once again, and wipe with a clean towel.

Roll the lemon on the counter a few times using firm pressure.

Cut the lemon in half and then in fours.

In each jar, add 4 lemon pieces and ¼ cup of sugar.

Muddle the lemon and sugar together until the lemons are broken down and the lemon juice is fully released.

Fill each jar with ice and then top with water.

Tightly screw lid on the jars and shake thoroughly. Garnish with a lemon wedge.
Metric conversions are calculated automatically. I cannot guarantee the accuracy of this information.
Tried this recipe?
Feel free to share a rating and comment below. Don't forget to tag me on social media, or use the hashtag #EntirelyElizabeth – I would love to see what you've made!
If you make my State Fair Lemonade, don't forget to leave this recipe a rating, comment, or like. Tag me on social media using the hashtag #EntirelyElizabeth when sharing your own personal photos making this recipe. I would love to see your version and know your thoughts!

By