There is nothing better or easier than these Mini Lemon Meringue Pies– flaky crust, tart lemon curd, and sweet toasted Italian meringue! They are the perfect "make ahead of time" dessert for parties, holidays, or just because. Everyone will be wowed by these mini pies.
If you have any leftover pie crust scraps while making these, you gotta try my Pie Crust Cookies!
Why You'll LOVE This Mini Lemon Meringue Pie Recipe
They have all the classic flavors but in mini form! Flaky pie crusts, tart yet sweet lemon curd, and a silky toasted meringue.
They can easily be made ahead of time and constructed the day you are serving them. This makes them perfect for treat tables, parties, or holidays.
You can even make this recipe into a large 9 inch pie!
Mini Lemon Meringue Pie Ingredients:
Mini / Individual Pie Crusts: I use a super fun method where you form the pie dough on the back side of a cupcake baking pan. It makes the mini pie crusts bigger than alternative methods and it is easier to make them this way too. Check out details and tips to the perfect mini pie crusts by visiting this link.
Pie Crust: You can use store-bought or homemade dough. If you are looking for a really good recipe, I recommend my Vodka Butter Pie Crust.
Lemon Curd: The lemon curd is the star of the show in these Mini Lemon Meringue Pies. It is rich, tangy, and creamy! And, you are going to need 5 things to make this lemon curd:
Lemon Juice & Zest: always use fresh and ripe lemons because this is the source of your lemon flavor.
Granulated Sugar: for sweetness.
Eggs: to thicken the curd and give it structure.
Unsalted Butter:

for a creamy curd.

Salt: to amplify the flavors.
Italian Meringue: You will need a batch of my No Fail Italian Meringue. This recipe is great because (1) it requires less work and more babysitting, and (2) it is super stable and toasts up beautifully.
How to Make Mini Lemon Meringue Pies
This is a short summary of the steps, the recipe card will have more details below.
Form and Bake the Mini Pie Crusts
Roll out your pie dough and cut out 8 crusts.
Form the crusts around the cupcake cavities by lightly pressing on the top first until it reaches to the bottom of the pan. Pierce your dough with a fork and place crusts in the freezer to firm up.
Bake them until golden brown and allow them to cool on the cupcake pan for another 10 minutes to prevent breaking as you move them.
Cool to room temperature on a wire rack.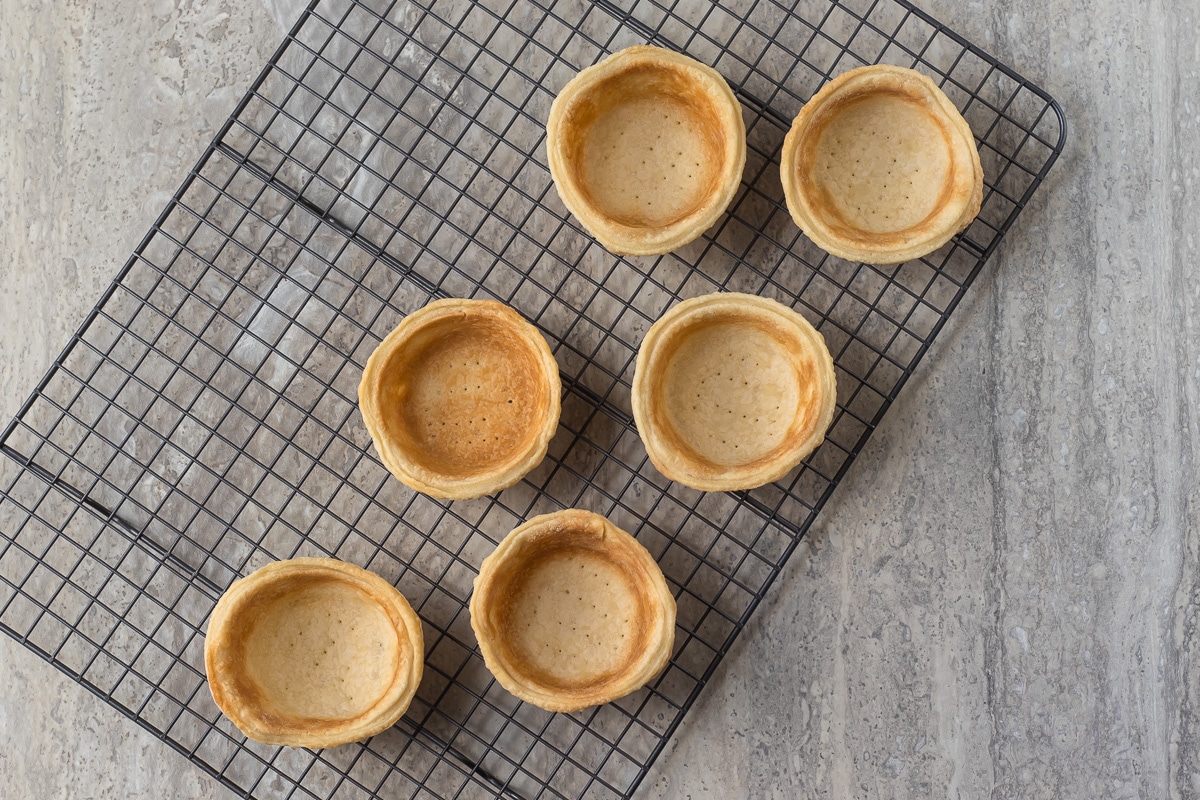 Make the Lemon Curd
Add your sugar, salt, eggs, and egg yolks to a double boiler and whisk until incorporated.
Slowly pour in the lemon juice and zest and continue to whisk until the mixture thickens. Whisking, whisking, just keep whisking (you know where I got that from)!
Once thickened, remove it from the heat and whisk in your butter.
Pour the hot curd into a glass container, top with plastic wrap so it is touching the top layer of the curd
Refrigerate overnight or until cooled and thick.
PRO TIP: If you do not have a double boiler you can make one using a saucepan and a heat safe glass bowl on top. Just do not use a metal bowl, metal and the acid from the lemon juice will make your curd metallic tasting.
Whipping Up the Italian Meringue
It comes together in about 25 minutes and can be made ahead of time and refrigerated overnight. You can also make it the same day you make the pies too.
Constructing the Mini Lemon Meringue Pies
Now we are getting to the fun part! So, get all your ingredients ready and in an assembly line.
Fill the empty pie crusts with lemon curd.
Top with Italian meringue and toast with a kitchen torch or under your oven broiler.
Chill and serve!
PRO TIP: If you use your oven broiler, chill the pies for 15 minutes or so before. This allows for an even toast and it won't make your curd soupy.
Frequently Asked Questions (FAQ's)
How do I store Mini Lemon Meringue Pies?
Constructed pies can be stored covered in the refrigerator for up to five days. If they are unassembled, collectively the ingredients can be refrigerated for up to three days.
What does lemon meringue pie taste like?
Lemon Meringue Pie is 3 levels of flavor. The first being a buttery, crisp, flaky pie crust. On top of that is a sweet and tangy lemon curd which has the consistency of pudding. Then a torched meringue on the very top which tastes like and has the same consistency as a gooey toasted marshmallow. It is so delicious and definitely a favorite.
Can Mini Lemon Meringue Pies be frozen?
Yes you can! Just store them completely assembled in an airtight container for up to three months. Remove them from the freezer a few nights before you plan on serving them and refrigerate until thawed. Torch the meringue right before serving.
Looking For More Pie and Tart Recipes?
---
Thanks for dropping in! Be sure to subscribe to my weekly newsletter for fun NEW CONTENT and CONVERSATION delivered to your inbox. If you love this recipe save it now so you can find it later. Thank you for your support!

Mini Lemon Meringue Pies
Flaky crust, tart lemon curd, and sweet Italian meringue! There is nothing better than these Mini Lemon Meringue Pies, and no need to share.
Equipment
Cupcake Baking Pan (12 count)

Large Round Cutter;

You can also use a wide mouth jar or glass as a cutter for your crust

Double Boiler
Ingredients
1

9 inch

pie dough crust;

store bought or homemade

1

batch

No Fail Italian Meringue;

recipe here
Lemon Curd
1

cup

granulated sugar

⅛

teaspoon

salt

1

eggs;

lightly beaten

3

egg yolks;

lightly beaten (reserve the egg whites for the Italian meringue)

½

cup

lemon juice

1

tablespoons

lemon zest;

1/2

cup

unsalted butter;

one stick
Instructions
Mini Pie Crusts
Preheat your oven to

400

°F

Roll out the pie crust so it is thin but not too thin. You want to be able to stretch it over the cupcake cavities on your baking pan.

Lightly flour your round cutter and cut out eight circles.* If you are unable to get eight crusts you can form the dough into a ball, place in the refrigerator for ten minutes, and re-roll out.

Flip your cupcake baking tin so it is facing down. Form your pie crusts over each of the cavities of the baking tin. Make sure they are stretched all the way to the bottom of the tin and slightly press down.

Pierce the crusts with a fork and put them in the freezer for five minutes. Do not skip this step as it keeps the crusts from shrinking too much.

Place your crusts in the oven for ten to twelve minutes or until golden brown.

Allow to cool for ten minutes and then place on a wire rack to cool to room temperature.
Lemon Curd
Place an inch or two of water in your double boiler and place top pot on.

Over medium heat add the sugar, salt, egg, and yolks. Whisk for one to two minutes or until incorporated.

Slowly add the lemon juice and lemon zest. Continue to whisk until mixture thickens.

After five minutes if your curd still hasn't thickened you can increase the heat to high, but be careful not to burn the curd. Also keep in mind curd thickens with the butter and refrigerator.

Once the curd has thickened, remove from heat. Add butter and whisk until incorporated.

Place the curd in a glass jar. Immediately top with plastic wrap so it is directly over the top layer of the curd.

Refrigerate until cooled and thick. Remove plastic wrap and place jar lid on top.
Constructing the Mini Lemon Meringue Pies
In the cooled crusts and two to three tablespoons of lemon curd.

Top the lemon curd with three to four tablespoons of Italian meringue.

Torch the meringue with a kitchen torch or place under the oven broiler.
Video
Notes
Storing Information:
Lemon curd can be stored in the refrigerator covered for up to 10 days.
Constructed pies can be stored in the refrigerator up to five days or the freezer up to 3 months.
 

If you make my Mini Lemon Meringue Pies, don't forget to leave this recipe a rating, comment, or like. Tag me on social media using the hashtag #EntirelyElizabeth when sharing your own personal photos making this recipe. I would love to see your version and know your thoughts!

By Elizabeth Swoish on July 31st, 2021