This Garlic Basil Chicken recipe is tender and juicy chicken smothered in a rich garlic sauce, topped with fresh basil! It is made on the stovetop and done in 20 minutes. The perfect option for busy days, dinner parties, or a romantic date night in.
Browse all my quick and easy meals here! This chicken tastes great with my Smashed Fingerling Potatoes!
This Garlic Basil Chicken recipe has become a family favorite, and for good reasons! The pan-fried chicken is so juicy and tender while the sauce is rich and garlic-ey. Not to mention the basil which adds a fresh and herbaceous note.
I guarantee this recipe will become a favorite in your house and be put on repeat! If you are craving more pan-fried chicken, I highly recommend this Dijon Chicken from my friend Sara.
Garlic Basil Chicken Ingredients
Olive Oil: Used for searing the chicken. Make sure you are using a high quality, high smoke point olive oil or your chicken could have a acrid flavor.
Chicken Breasts: Boneless, skinless breasts are the best. If yours are very large like mine were, you may have to cut them in half and pound them thin.
Salt and Black Pepper: To season the chicken breast prior to searing. I give recommended amounts but always season to your taste preferences.
Chicken Broth: This is the base of our sauce. I used low sodium. You can also use vegetable broth, dry white wine, or even water. Just keep in mind it will alter the flavor of your sauce if you use anything other than chicken broth.
Butter: Use unsalted butter or your sauce will be extremely salty.
Garlic: Freshly grated or minced garlic cloves taste the best. I do not recommend jarred garlic or garlic powder because the garlic flavor will not be as pronounced.
Basil: Fresh is always the best. Dried basil just doesn't have the best flavor.
How to Make Garlic Basil Chicken
Here is a quick overview on how to make this Garlic Basil Chicken Recipe. The recipe card below will have complete details and instructions.
HEAT OLIVE OIL in a large skillet over medium heat. Season your chicken breasts with salt and pepper on both sides while your pan heats up.
SEAR CHICKEN BREASTS on both sides. Make sure you do not move the chicken (only when flipping) once it is placed in the skillet or it will not sear properly. Once it is fully cooked remove the chicken breast from the skillet and set aside to rest.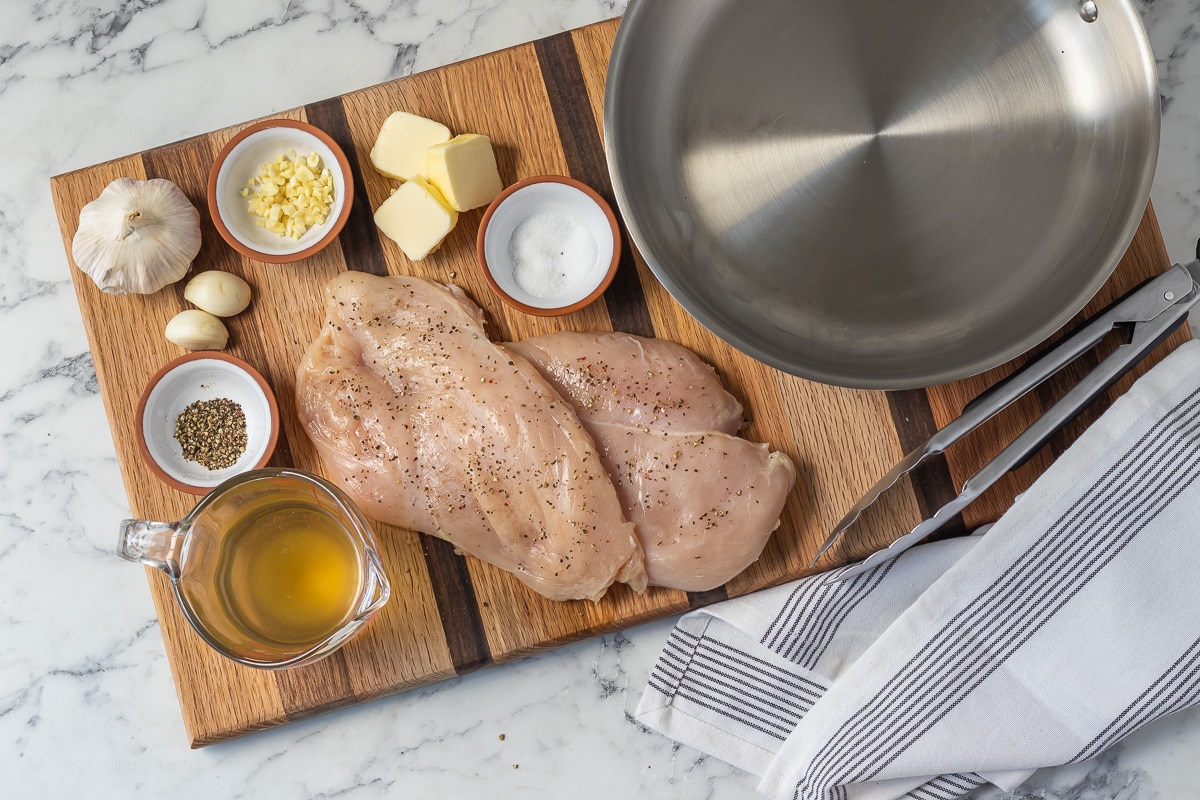 MAKE THE GARLIC SAUCE. In your skillet over medium heat, melt butter and scrape the browned bits off the bottom of the pan (it add so much flavor). Saute the garlic until fragrant and add the chicken broth. Allow the sauce to reduce over medium-high heat.
ADD THE CHICKEN BACK INTO SAUCE and coat thoroughly. Top with fresh basil and serve immediately!
Tips For Juicy Chicken Breasts
Use a high quality cooking oil for searing (I like extra virgin olive oil). From the extended cooking times, if you use butter or a low quality oil it heats up to very high temperatures. Those high temperatures create smoke and burn your chicken with potentially acrid and unhealthy compounds.
Cut your chicken breasts in half and pound to an even thickness. This tenderizes the chicken and allows them to cook more evenly and quicker.
Be sure your pan is piping hot before adding your chicken breasts or they will not sear properly.
Do not, I repeat, do not move the chicken breast at all once they are in the pan because it will also prevent them from searing and cooking properly.
Once your chicken is cooked to 160 to 165 degrees Fahrenheit allow it to rest for five minutes. Resting allows the moisture to be re-absorbed and your meat will be tender and juicy.
What To Serve With Garlic Basil Chicken
Because this recipe is done on the stove top I like to choose sides that require little attention.
My go-to is Roasted Potatoes and Cauliflower because it is done in the same amount of time it takes to make the chicken. All you do is set your oven to 425 degrees, toss quartered potatoes and cauliflower in olive oil and seasoning of you choice, throw on a baking sheet, and bake for 15- 20 minutes.
I also like Steamed Rice and Broccoli. The rice only takes five minutes on the stovetop and the microwave steamed broccoli only takes about six minutes. To amp up the steamed broccoli I throw a tablespoon of butter and seasoning in the bag once it is done cooking and shake it up. I will spoon some of the garlic sauce over the rice which is super delicious.
Or try it with my Lemon Orzo Salad, English Pea Salad, or Lemon Feta Fries.
Frequently Asked Questions About This Garlic Basil Chicken Recipe
When are chicken breasts fully cooked?
There are 2 ways to tell if your chicken is fully cooked. One, the thickest part of the chicken should be 160 to 165 degrees F with a digital thermometer. Two, when the chicken is cut in half the juices should run clear with no pink colored meat, only white.
Can I use dried basil and garlic?
Technically yes, although I do not recommend it. Dried and powdered herbs and seasoning tend to lose their potency and flavor. Always go for fresh basil and fresh garlic cloves in this recipe.
What can I use other than chicken broth to make the sauce?
Chicken broth alternatives include dry white wine like Pinot Grigio, vegetable broth, a chicken bullion cube with water, or water. Just make sure the chicken broth is replaced with equal parts of another liquid.
More Quick Dinner Recipes You Might Enjoy
---
Thanks for dropping in! Be sure to SUBSCRIBE to my weekly newsletter for fun NEW CONTENT and CONVERSATION delivered to your inbox. If you love this recipe save it now so you can find it later. Thank you for your support!

Garlic Basil Chicken
Tender, juicy chicken smothered in a rich garlic sauce and topped with fresh basil! It is done entirely on the stovetop and can be on the dinner table in 20 minutes flat! And since it is made in one skillet there is less clean-up too!
Ingredients
2

tablespoons

olive oil

3

boneless, skinless chicken breasts

-

cut in half and pounded thin (6 average sized breasts)

salt and pepper

-

to taste

1

cup

chicken broth

6

tablespoons

unsalted butter

2

tablespoons

garlic cloves

-

minced or grated

3

tablespoons

fresh basil

-

chopped and fresh
Instructions
Cut in half three large, boneless, skinless chicken breasts. Pound thin and evenly. You will have six average sized chicken breasts.

Salt and pepper both sides of the chicken breasts and set aside.

To a large skillet add the olive oil and heat to medium-high heat.

Once the skillet is hot add your chick and allow it to sear for 6 minutes. Do not move the chicken breast or it will not sear properly.

Flip and sear on the second side for another 6 minutes. Again, do not move the chicken breasts.

NOTE: Sear chicken in batches if you do not have a large enough skillet. 

Remove the seared chicken breasts and set them aside to rest.

NOTE: Chicken is fully cooked when it has reached an internal temperature of

165

°F

Add the butter to your hot pan. Use your spatula to scrape the bits left behind in your pan. Once the butter is melted allow it to brown for thirty seconds, stirring continually.

Add the garlic and cook until fragrant, about one minute, stirring continually.

Add the chicken broth and allow the liquid to boil and steam, this will make a thick sauce. Stir continuously for two to three minutes.

Turn off the heat. Place the chicken back into the skillet, smother the seared chicken breasts in the sauce.

Top with the fresh basil, serve with your favorite sides.
Video
Notes
Storing Information:
Refrigerated, in an airtight container, for up to 3 days.
Metric conversions are calculated automatically. I cannot guarantee the accuracy of this information.
Tried this recipe?
Feel free to share a rating and comment below. Don't forget to tag me on social media, or use the hashtag #EntirelyElizabeth – I would love to see what you've made!
By