This 2 ingredient spicy Hot Honey Sauce recipe is the condiment of the decade! It is spicy, sweet, and can be used on anything from pizza to ice cream to chicken wings and beyond. Best part is how easy it is.
For other spicy condiments, try my Blackberry BBQ Sauce, Sriracha Aioli, or Chipotle Southwest Sauce.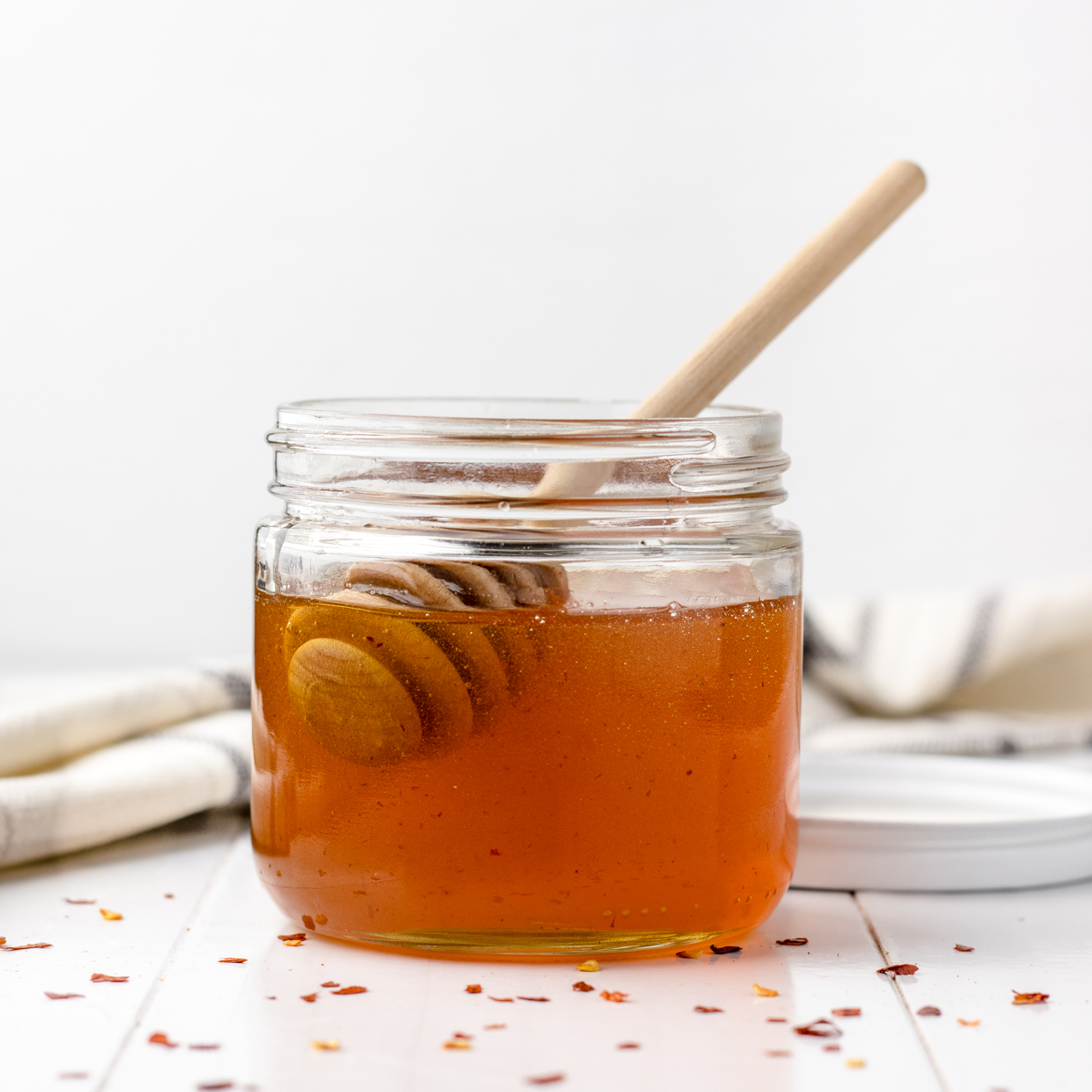 Why You Need This Spicy Hot Honey Sauce Recipe:
BETTER THAN STORE-BOUGHT: It is not only cheaper, but it tastes better and is free of additives preservatives and junk we don't want in our condiments.
HIGHLY ADDICTIVE: You are going to want to put this spicy honey sauce on absolutely everything. Its delicious on sliders and sandwiches, waffles, fruit salad, chicken wings, biscuits, focaccia, and more!
YOU CONTROL THE SPICE LEVEL: Add more or less red pepper flakes to make this spicy honey sauce exactly how you like it! The recipe as written is slightly spicy but so much where you can't taste the other flavors of what you are eating.
What Is Hot Honey?
Hot honey has become an increasingly popular condiment. You often see it being drizzled on pizza, wings, and other foods by social media influencers on TikTok and Instagram.
It is a delicious balance of spicy from chili pepper flakes and sweet from the honey. Hot honey is most commonly purchased at the grocery store but it is even easier and cheaper to make at home.
Hot Honey Sauce Ingredients
Honey: I recommend making this with local liquid honey because it offers so many health benefits. In reality any jarred or bottled honey will work though. Keep in mind raw honey tends to solidify quicker.
Red Pepper Flakes: I use crushed red pepper flakes in this recipe because it is a staple pantry ingredient for most. It is also easy to find at any local grocery store.
Equipment Needed
Strainer or Sieve with very fine mesh so the red pepper flakes can be removed easily.
Airtight Glass Container or Jar
How To Make Hot Honey Sauce
Here is a quick overview, the recipe card below will have all the details.
Add all the ingredients to a small saucepan.
Simmer (not boil) over medium heat for 10 minutes.
Remove from the heat and cover with a lid. Allow the hot honey to steep and cool until room temperature.
Sieve the red pepper flakes from the spicy Hot Honey Sauce.
Store in a glass airtight container or jar in your pantry at room temperature.
Everyday Uses for Spicy Hot Honey Sauce
Hot Honey can be used in any recipe that calls for regular honey. You can also use it in place of some sweeteners and syrups. Here are some of my favorite ways to use it:
Dipping sauce for pepperoni pizza (my absolute favorite!) or on my Pizza Dip
Hot Honey Glazed Carrots
A part of your charcuterie board or grazing table
In salad dressings and honey mustard sauce
Drizzled over vanilla ice cream
In cocktails or mocktails as a spicy sweetener
I even love adding it to my piping hot teas, like this copycat Starbucks Medicine Ball Tea Recipe
Part of a delicious marinade
Sweet potato fry dipping sauce (it is awesome on my Smashed Fingerling Potatoes)
The list goes on and on… But I do guarantee it will become a regular part of your food choices!
It Makes A Great Gift!
Homemade gifts and party favors are the absolute best, in my opinion. This one does not disappoint because it is so versatile. All you have to do is package the Hot Honey in cute glass jars, label them, wrap it up with a honey drizzler and a pretty bow. So cute!
Frequently Asked Questions (FAQ's)
Can I use fresh chilis?
Of course but keep in mind they tend to vary in flavor and spice. You may need to do some taste testing to get the spice just right.
How do I store Hot Honey and how long will it last?
It is shelf stable as long as it is stored in an air-tight container. You will also want to make sure it is in a cool, dry place. It should last up to six months (if it lasts that long, ours is gone within a month or two. Ha!).
Can I leave the red pepper flakes in the honey?
Yes you can! Doing this will result in an amplified spiciness that increases more and more overtime. So if you can handle the heat, feel free to leave them in.
What do I do if honey crystallizes?
Crystallization naturally happens with honey over time. All you have to do is heat it in a hot water bath or in the microwave for a few seconds until the crystals dissolve.
More Homemade Condiments and Sauces You Might Like:
---
Thanks for dropping in! Be sure to SUBSCRIBE to my weekly newsletter for fun NEW CONTENT and CONVERSATION delivered to your inbox. If you love this recipe save it now so you can find it later. Thank you for your support!

Hot Honey Sauce
This Hot Honey Sauce is the condiment of the decade! It is spicy, sweet, and can be used on anything from pizza to ice cream to chicken wings. Not to mention it only requires two ingredients and is super easy to make.
Equipment
Small Saucepan with Lid

Fine Mesh Strainer

glass jar -

or other airtight container
Ingredients
1

cup

honey

2

teaspoons

red pepper flakes;

-

more or less to taste
Instructions
In a small saucepan, add the honey and red pepper flakes.

Heat over medium for about 10 minutes. Stir occasionally and make sure the mixture does not boil, it should only simmer.

Remove from heat and cover with lid. Allow the hot honey to stand for 30 minutes or until room temperature.

Sieve the red pepper flakes from the honey into an air-tight glass jar.
Notes
Storing Information:
In an air-tight container, stored in a cool, dry place for up to six months.
Metric conversions are calculated automatically. I cannot guarantee the accuracy of this information.
Tried this recipe?
Feel free to share a rating and comment below. Don't forget to tag me on social media, or use the hashtag #EntirelyElizabeth – I would love to see what you've made!
By